Early February 2018 Charlie Noton, Director of Tree Research, received an email from Soho House regarding a very exciting project at The BBC Television Centre, Shepherds Bush.
The Client brief was simple; 'Produce a roof top garden and relaxation area across two floors to compliment the retro design of White City House. However, we have one month to complete before the launch date' GULP!
After several emails too-ing and frow-ing, the design brief was set and we had the green light to start the design process.
Due to the incredibly tight time line on this project the budget needed to be approved, the pots and troughs sourced as well as the plants sourced, delivered and planted – this was a mammoth task!
We initially started with contacting some amazing pot and trough companies across the UK and Europe to discuss if a 4 week turn around was possible. All suppliers came back saying it was a tough ask but something that could be achievable if we moved fast. However, with several days of emails and budget changes this deadline was creeping ever closer. We finally had the budget accepted with 2 weeks to go before completion was due. So the process of buying the troughs, pots, compost etc had begun. We learned very quickly that the lead time for the pots we originally required to be made was physically impossible so we had to rethink. We contacted the same suppliers and went through their stock lists and had a slight redesign. A move that proved to be vital as well as perfect for the space.
The plants were actually the easiest part to all of this process. Plant enthusiasts, Charlie, Michael Buck, Our General Manager and Piers Beeching, a long term friend of Charlie's and top plantsman, sat down in a bar not far from White City House to discuss the plants well into the evening. A late finish that proved to be the norm for this project.
Once the pots and troughs had been arranged with a 5 day turnaround for delivery, a trip to Covent Garden Flower Market for inspiration was in order. Charlie and Michael met Piers, bleary eyed at 6.30am for a spot of shopping. Well worth the 4am alarm call!
Inducted, we started on site. A site which had plenty of challenges and obstacles for us. On the 9th floor paving slabs were not set, with painters painting the slabs in readiness for securing. We had Chris and his marvellous and very helpful team from Flybird Installations who were tasked with the job of erecting a retractable pergola over our heads.
If this wasn't enough to slow us down, we shared one lift with all the other trades, including the team who were installing all the furniture on the Soho Floors with wait times on the lift of up to 1 hour. A situation that even a Saint would have had their patience tested.
It took us 4 days to deliver the pots, troughs, compost and Leca to the 9th and 10th floors. A monumental effort by our team with all sorts of obstacles and slight set backs along the way.
With everything delivered onto the 9th we could begin the process of filling the troughs and pots in readiness for planting. This process required team work not just with in the Tree Research gang but with Chris and his team, also. Working at height they skilfully installed a fantastic pergola around us and in return we had to be flexible with our trough and planter positioning to enable them to secure around us. The 10th floor upon arrival wasn't tiled, so we concentrated our efforts on the 9th.
By this stage, our plants were on site and ready for planting – the most exciting part of any job we do. All the furniture was in its final positions so the lift was much easier to use.
The Tree Research team expertly and carefully navigated multistem trees of up to 300kg through the maze of furniture and bars to their final resting position. Once planted, the scheme really started to take shape and gain even more momentum.
3 full days of planting, including a double shift long meant we were planting long into the night on a roof top with the London Skyline lit up in the background – a job we are sure our team will not forget in a hurry.
Fast forward two weeks later and more plants and planters are required and some more finishing touches about to take place.
It has been an absolute pleasure working with Soho House on their White City House project and one we are very proud of.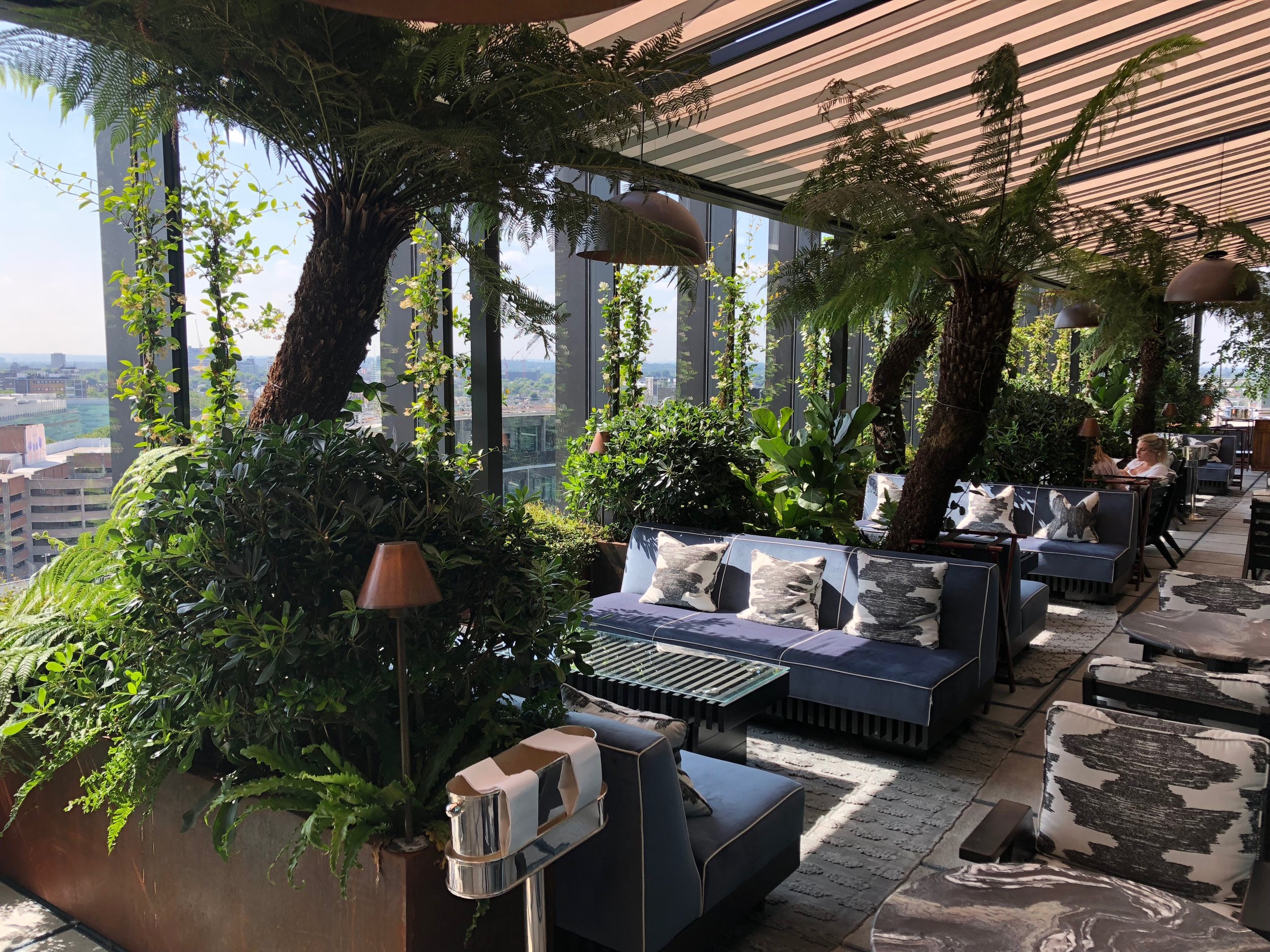 Here are a few figures about the job:
· 398 Man Hours
· 3320 miles covered from Base to Site (A Distance equivalent to London to Boston, Massachusetts, USA )
· 9,308 litres of compost
· 2,500 litres of Hydroleca
· 3,500 kgs of Plant Material